If you need to find specialists and hire a company specializing in marketing, web development and some other fields, Clutch.co is the very destination where you need to start your search from.
What It Is?
Clutch is an independent Washington, DC research company busy with identifying leading software and professional services firms that deliver the best results for their clients. As the founders describe it themselves, 'Clutch was created to solve an important, two sided problem. How do buyers of professional services and software find the best companies to meet a specific need? And conversely, how do leading services and software firms stand out from the sea of mediocre competitors?'
To find the bests big brands with big budgets normally do their own research and evaluation. Clutch does it for everybody else. If you don't have money to hire your own researches, go to Clutch and check their ratings — as well as independent clients' reviews.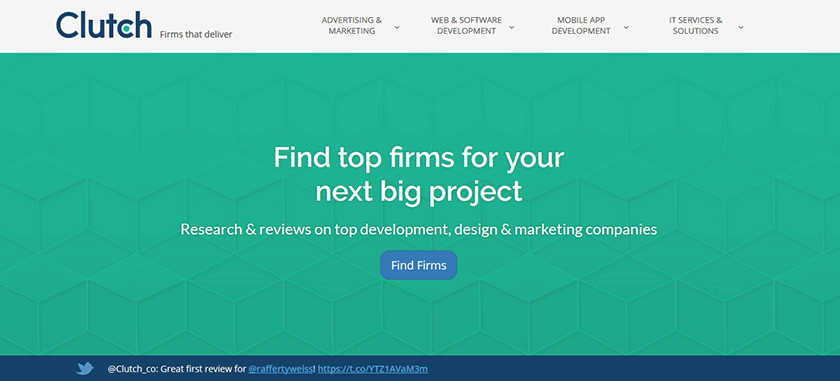 How It Started?
Clutch was started in 2012 by founders experienced both as buyers and sellers of services and software. So, they knew what they wanted to create: a reliable database of providers to choose from.
To create their own evaluation methodology, Clutch explored experiences of the large, traditional IT research firms as well as more innovative consumer review sites. That's how their new approach including the best of both worlds was born.
Leaders Matrix Methodology
The original Leaders Matrix by Clutch is a 2×2 matrix where service providers are mapped based on their areas of focus and their proven ability to deliver. Leaders Matrices are developed for key service markets where unique skills are required.
The "Ability to Deliver" dimension is composed of three evaluation criteria, each with several underlying metrics. Each provider is scored from 1 to 10 on each metric with the values rolled-up to the three evaluation criteria then an overall score for Ability to Deliver.
The most highly weighted component is feedback from clients. Clutch contacts current and former clients and gets their input on a range of qualitative and quantitative topics. Client feedback is weighted by project size and complexity. Quantitative scoring includes the following elements: quality, cost, schedule or ability to meet deadlines and willingness to refer a colleague to the company.
The second criteria evaluates the client portfolio and types of projects completed for those clients.
And the third is market presence. This criteria includes marketing presence, reputation, accolades and presence in social media.
Each Leaders Matrix integrates one to three areas of focus, depending on the characteristics of the market being evaluated. Providers submit quantitative data on their areas of focus and the data is reviewed and curated by a Clutch analyst.
How To Use Clutch?
The resource is an ideal place to find top firms for your next big project. The site accumulates information, research data and real reviews on hundreds of Advertising & Marketing, Web Design, Search Engine Marketing, Software Development, Web and Mobile App Development, and IT Consulting companies throughout the world.
To find a contractor you need, first choose one of the domains. Then check Leaders Matrices where firms are mapped based on their focus and ability to deliver. Then explore their profiles with all the information and rates. And, finally, browse their clients' reviews. Then just contact the chosen company and start your collaboration!
How Can You Contribute?
If you work in one of the above mentioned fields, you can place information about your company on Clutch, too.
If you work with companies presented on the resource, spend some time to leave your reviews on them. This way you'll help others make right choice.
Today Clutch is recognized as the go-to resource for buyers and sellers of the professional services in marketing, web and mobile development etc. Their researches of 500+ companies in 50+ markets help start-ups, mid-market and large enterprises find partners that meet their needs, whether for a one-off project or a long term relationship. It's surely a project worth of your attention!
Check Django Stars profile and reviews at Clutch.