In January 2019, a small research company called Small Biz Trends – famous for investigations of trends and reasoning behind the most notorious marketing campaigns in digital business – released the results of their most recent work on why startups fail. The main takeaway is that 9 out of 10 startups fail – and sadly, not all the reasons are clear.
What I admire about this kind of research is that it doesn't focus on advice for the young and aspiring, or reveal secrets about how to build a fintech company or commit to the best financial app development ever. Rather, it serves as a precaution for the bold ones who decide to involve themselves (or are already involved) in the generally troublesome startup sphere.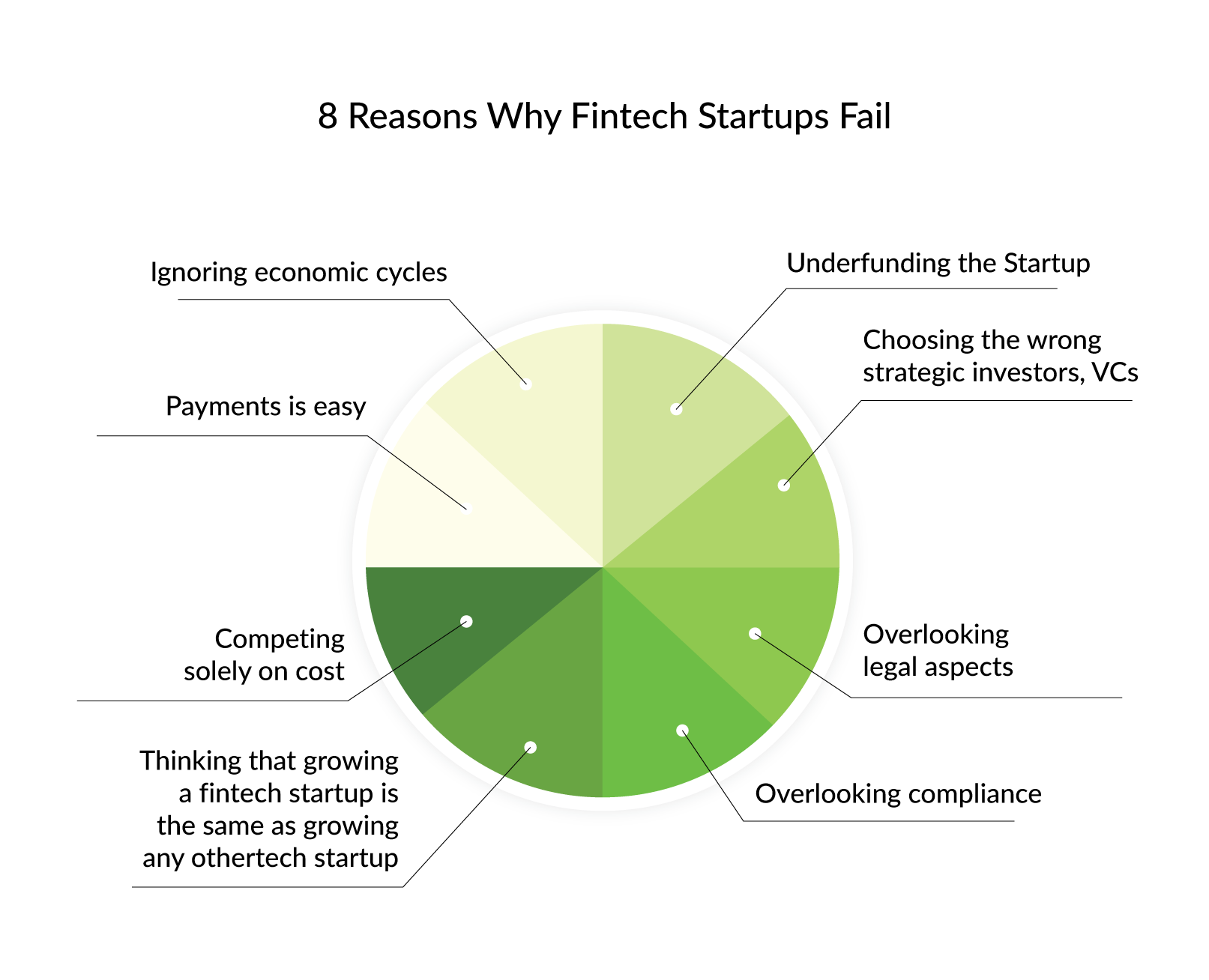 Although trying to capture even one-tenth of the real reasons for early collapses is a ridiculous idea itself (because nobody really knows them), informed observers – like Small Biz Trends – are aware of some predictors of startup success. Let's talk fintech here. If you think about it, fintech startups are more like kids — they are highly vulnerable, immature and need constant attention and support. Like with kids, you only get one or two chances to succeed, and penalties for misbehavior (regulatory incompliance) can destroy your future.
On the other hand, for most people, it's worth trying to realize a smart idea right off the bat, but even the best of ideas it is not the primary predictor of its success. What is it, then? The known ones include an appropriate market fit, a competent technology team, sufficient funding, and the age of the founders.
Surprised? Not all predictors boil down to the successful shipping of a new product. Small Biz Trends points out that:
The inexperience of CEOs and Directors can lead to bad decisions, frequently related to quick scaling, hiring of inadequate employees and problems in establishing a winning culture
Another famous study by MIT on the relationship between the startup founder's age and a startup's success rate draws more radical conclusions on the topic of age. The average age for a successful start-up founder appeared to be forty-five. "Knowledge comes from experience," they say.
It's funny that by the time one has acquired a university degree or dropped out – recall the well-known stories of Steve Jobs and Bill Gates – one is around 22-24 and probably does not know a thing about business. But the desire to start a company and be included in the Under 30 is stronger than the research data indicates. And there are many more factors like that, both obvious and not.
This article is about these factors.
The Market Factor
Success of a fintech startup — the ability to perform business functions without external investment — is possible only through the quality performance of all business departments, executed at the right time, aimed at the right audience.
Achieving market fit prevents a company from a number of problems. One problem leads to another. When founders have an idea and want to create a fintech platform but cannot fund a startup, they look for investments. To achieve success in that, they might need to clear out how to prepare a convincing investment proposal. In the case of a positive outcome, investments allow quick development. During development, marketing can be neglected. No marketing leads to missed market fit. No market fit means no users (=income). No income leads to underfunding. Underfunding shuts down the entire company.
Unfortunately, we again made the mistake of focusing on engineering first and customer development second. We released our first version to some moderate success, and then proceeded to continue to churn out features without understanding customer needs. Only later on, after finally engaging potential customers, did we realize that market was too small and the price point was too low to have Caliper sustain our company by itself.
– Amy Kniss
How is it, then, that some startups gain new rounds of investment, one after another, while others do not?
Time to market
One important stage of the development of a fintech startup is a period when the MVP is released to the market and early adopters (the first batch of active users) provide feedback and share it with the community. After that, the product is improved according to the feedback, and the next version is a better fit for users.
Simply put, focusing on the MVP to find the niche and then nailing it validates your business idea. Well, how do you do it? Based on my experience, I would suggest performing these activities continually:
1. Market research. Google for competitors to discover whether somebody's already doing what you want to do. If so, try their product and identify its flaws. Find out if the competitors are in demand. If not, why? It's either because their service solves a problem but does it poorly (a green light for you), or there's no need for such a product (red light — time to pivot!).
2. Customer development. After you've studied your competitors, you will have a set of assumptions regarding what about your product might interest people. Customer Development is the activity of discovering, testing and validating your business assumptions. Simply put, you talk to your customer to see if your business is progressing in the right direction, the direction being the market fit. Do not assume that if 'they just don't get it', you can educate your customers. The link below digs into the details of customer development. For the time being, keep in mind that you will be doing this frequently.
3. Keep the development/marketing balance. With each new release, you must get feedback. Either positive or negative, aim for feedback. The truth is that people do not expect to get a solve-it-all product. Neither do they expect it to be technologically perfect. In the early stages, you should keep it good enough. Spending your budget to get the best IT product leads to a high-end application and no awareness of its existence, which in turn leads to zero ROI.
4. Be ready to pivot. It requires much courage and money to pivot – that is, to change the course of your product development to fulfill the needs of customers. The term "pivot" was coined and popularized by Eric Reis, author of the bestselling book Lean Startup. Here are a few reasons that Reis says should indicate when it's time to pivot:
Too much competition

You can't make the product on time
You get little to no feedback
You are too focused on that game-changing feature
These four activities are considered universal. Over the course of 20 years or so, they lead to all sorts of talks, lectures, and discussions among the top managers of successful companies, each of which was once a startup. Dealing with market research, customer development, development/marketing balance, and readiness to pivot increases your chances of shipping a product that people may find useful. It will demonstrate profitability and attract more investment until your startup becomes a mature, independent business.
If you re plan to include a Time to Market stage (I hope I have convinced you on that matter by now), you'll want your MVP to be ready ASAP. This depends on the tech partner you choose and the tech stack they use. More on that in the second part.
Partnership Factor
When a brilliant idea strikes you, you are probably all alone with it. If you're lucky, you have a partner (a co-founder) who is as enthusiastic about it as you are. But then, as you start elaborating the idea, you find yourself acquiring more and more partners — technological partners, investors, mentors, and so on.
The financial services industry is a very particular industry where experience really matters. Noam Wasserman, a Harvard Business School professor, discovered that 65% of fintech startups failed as a result of a co-founder conflict. Below you will find a brief overview of what to look for in partners.
Investors
Fintech startups looking to raise VC funding must choose people with both experience and understanding of the space. If you decide to go with an online banking or insurance partner, it is crucial to think about what it takes to raise money from regulated financial services incumbents. Fintech startups must ask if regulatory approval is needed and plan accordingly. For instance, Embroker, a business insurance provider, warns: "If you are looking to raise money, most institutional investors, such as venture capital firms, will stipulate as part of the term sheet that a proper D&O policy must be in place before the financing is complete."
In addition, before closing an investment with an incumbent, startups must ask what type of reporting they will need, what type of governance, and what type of ongoing information they will require. These organizations work under different rules and cultures.
Technical partners
As for technological partnerships, you must both share the same long-term perspective to avoid hasty decision-making. The tech team should be even more actively involved in the fintech app development to meet the Time to Market line. The Time to Market version is your MVP that is good enough and markets well enough to get the first batch of active users. Ask for references or portfolio, if one exists.
A proven technology provider can support their claims with previously developed fintech apps and documented success stories from their clients. Be careful about the technology-first-approach. Sometimes, technology is used for the sake of using the technology. Always keep in mind that technology is only a medium for achieving business objectives. A shared attitude and approach towards market-oriented products and quick MVP development is what makes a great tech partner.
Django Stars has been developing Python/Django fintech products for a decade now, and our wholesome engagement into this technology helped us to become proficient and focus on bringing MVPs to the market rapidly.
We've written a separate guide on using Python/Django for startups, so if you're in the middle of choosing this technology, you might find it useful.
Mentors
Having a mentor for a startup increases your chances for promotion by five. As with other partnerships, you have to be careful when choosing this partner. Simply finding a more experienced manager does not work. What works, instead, is identifying your gaps and finding somebody who can help you cover those gaps. Like a puzzle. What differs a mentor from a co-founder is that a mentor will challenge your ideas, views, and business decisions to make you consider other points of view while using their own experience to sort of guide you. They should not dismiss your propositions daily, though. Opt for someone who is credible, empathetic and a few 'levels' above you in terms of experience. Your views should also align, since the mentor will contribute not only to the fintech software development, but to the company's culture as well.
Discovery Stage Handbook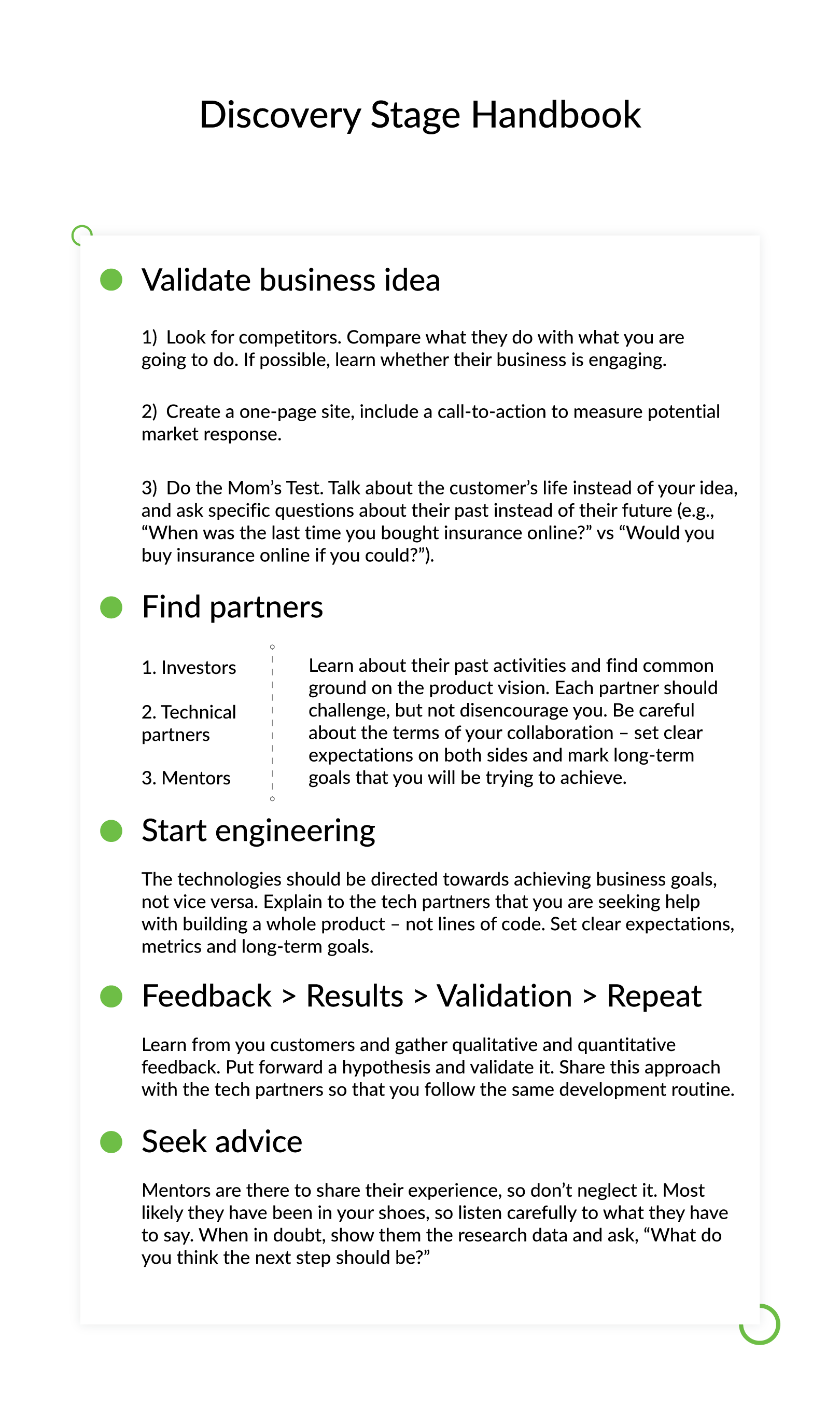 Validate business idea
Look for competitors. Compare what they do with what you are going to do. If possible, learn whether their business is engaging.
Create a one-page site, include a call-to-action to measure potential market response.
Do the Mom's Test. Talk about the customer's life instead of your idea, and ask specific questions about their past instead of their future (e.g., "When was the last time you bought insurance online?" vs "Would you buy insurance online if you could?").
Find partners

Feedback > Results > Validation > Repeat
Lea id="header8″>mers and gather qualitative and quantitative feedback. Put forward a hypothesis and validate it. Share this approach with the tech partners so that you follow the same development routine.
Start engineering
The technologies should be directed towards achieving business goals, not vice versa. Explain to the tech partners that you are seeking help with building a whole product – not lines of code. Set clear expectations, metrics and long-term goals.
Seek advice
Mentors are there to share their experience, so don't neglect it. Most likely they have been in your shoes, so listen carefully to what they have to say. When in doubt, show them the research data and ask, "What do you think the next step should be?"
Successful Fintech Startups
You have just been exposed to a variety of factors that will serve as the pillars of your product success. They're like building blocks that make your product stable, customer-oriented, and forward-looking.
Now, you might ask: Theory is nice, but show me some examples of successful fintech startups!
Don't worry, I've got you covered. Here are a few fast-growing fintech products and the fintech startup marketing strategies they use.


Country: Switzerland
Founded: 2011
Capital raised: Was acquired for CHF 107 million by international insurance group Helvetia in December 2016
Moneypark is an independent broker and financial advisor for insurance and mortgage customers in Switzerland.
Here are the main benefits of MoneyPark:
Mortgage and pension planning products
A network of more than 100 banks, insurance companies, pension funds and brokers
Enables users to find a mortgage provider online and sign a contract with a bank
Offer independent analysis of Swiss mortgage providers and other financial solutions
As I've mentioned, one of the most important factors in fintech startup creation is to maintain a development and marketing balance. That's exactly what MoneyPark stands for.
It combines advanced technological solutions with a customer-first approach. If you're interested in the technical side of the product, you can read more about its features in this case study.

The first indenpendent provider of personalizedfinancial advice on mortgage and insuranceproducts in Switzerland.
What else makes this fintech startup successful?
One of MoneyPark's strategies is to partner with leading banks and insurance providers. It has managed to build Switzerland's largest mortgage and insurance network by cooperating with more than 100 banks and insurance partners.  They also provide a beneficial partner program to collaborate with real estate, insurance, finance, and other service providers.
Сustomer acquisition strategy
MoneyPark uses referral programs as one of its marketing strategies. For each successful recommendation that leads to a contract sign-up, MoneyPark gives a voucher worth CHF 100. Currently, its voucher partners include Globus, Galaxus, and Ikea.
Constant customer development and loyal customer relationships
MoneyPark aims to build long-term relationships with its customers. But even after clients have found the proper mortgage provider, the cooperation doesn't end. MoneyPark also offers to send them regular updates about their property value and changes in this value over the years. This approach helps them plan meetings with their clients in order to discuss possible refinancings. This is a great example of how fintech products can retain their customers and reinforce client relationships.

Country: United Kingdom
Founded: 2015
Capital raised: $336.9M
Revolute is a digital banking alternative and one of the fastest-growing FinTechs in Europe. Revolute is a mobile app that helps people track and manage their expenses, transfer and withdraw money globally, exchange cryptocurrency, and more.
Revolut has attracted 4 million users with online and offline marketing, and even more, it spent nothing on marketing to reach 1.5 million users. Impressive, isn't it?
So let's review the main factors and fintech startup marketing strategies Revolut used to achieve those results.
 Defining customer pain points first, then coming up with solutions
As I mentioned in the handbook – validate your business idea first! That's exactly what Revolut did. Their founder identified a clear problem that a certain group of customers (travelers and expats) faces – foreign exchange rates. That was what they focused on the very beginning, and it's what became their value proposition.
Investment into user feedback
Customer feedback helped Revolut's founders expand the product with new features. They read the reviews on social media, and organized events (with free drinks and food) for active users where they listened to their feedback on new and existing features. In addition, they let the most active users invest in the company and become its part owners.
Choosing the right KPIs for your fintech startup will help you define whether your product is really valuable and what you should focus on to draw more customers.
The main KPI for Revolut was daily usage – DAU. That's how they measured real and lasting engagement with their product.

Country: United Kingdom
Founded: 2012
Capital raised: $100 K
Molo is a digital mortgage lender that makes it easy for consumers to get a mortgage online with no paperwork, cumbersome processes, manual reviews, or long waiting times.
Molo's web platform consists of 6 main parts: a mortgage calculator, automated advisories, a precise valuation tool, an initial offer mechanism, a legal maintenance tool, and a mortgage management module. You can read more about these features and tech stack in this case study.

The first fully digital mortgage provider.
Here is what Molo does to stay competitive:
Always study your customers and their needs, and make it an internal part of your strategy. Recently, we interviewed Amitabh Ghatak – the CPO at Molo, who said: "Having that customer-centered focus is central to all the conversations about every feature we build and how we build it."
Molo's customer surveys and audience analysis told them that not only young folks, but the older generation was interested in their services and reviews their strategies.
Doesn't try to disrupt a market, but to provide a simple and transparent solution
Molo's initial goal was not to reinvent the wheel or create a new market, but to find a niche and solve customer pain points. In Molo's case, this pain point was manual and paper-based processes that people had to go through to get a mortgage. So Molo focused on 3 main things – speed, transparency, and value.

Country: United States
Founded: 2011
Capital raised: $2.5B
Sofi is an online lending platform that offers low interest rates and big savings.
In less than a decade, Sofi has turned from a little-known startup into a $4 billion unicorn. What has contributed to its success and growth? Here are some of the main factors:
Since the beginning, Sofi has focused on just one customer segment: students from elite universities. That approach has helped them to find their niche, outperform competitors and earn trust in the market.
Sofi provides one service that makes it different from its competitors. It's called Unemployment Protection. When one of their clients loses his or her job, Sofi allows them to defer their loans in increments of 3 months, which gives them time to get back on their feet.

Country: United States
Founded: 2013
Capital raised: $18.9 M
Fundera is an online loan broker that serves small businesses. It matches borrowers who are looking for financing with lenders.
What makes Fundera successful?
A focus on long-term relationships
From 2014 to 2017, Fundera grew fourfold (336%) vastly outperforming its competitors. Fundera strives to cultivate long-term relationships with their clients, and not just serve as a transactional service. They support customers at each stage and partner with small businesses.
As a Fundera executive told , "The majority of our revenue comes from existing customers, not new customers." That philosophy has paid off for Fundera, which has become a viable business that doesn't need venture capital to grow.
By building long-term relationships with clients and providing them with tools for choosing the loan option that's best for them, Fundera creates trust with its customers. They also offer a specialist that works with small business owners, which decreases risk for both the lender and borrower.
The conclusion I would like you to draw from this post is that the more you plan, the less you suffer afterwards. This takes time and effort, which is one reason why not every entrepreneur goes beyond the idea stage. And even after that, most startup fail, and fail hard. Focusing on the market fit decreases your chances of building a neat, but low-demand application. One thing I always remind my colleagues about is that although we work with computers,code, and data, we do it for people. This shifts the focus of engineers from writing code to answering people's needs. As a result, fewer companies end up as the subjects of news reports on failed startups.